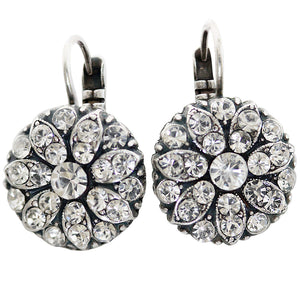 Mariana "On A Clear Day" Silver Plated Guardian Angel Crystal Earrings, 1029 001001
Regular price $ 67.00 Sale
These beautiful Mariana earrings feature sparkling clear crystals in a lovely mosaic blossom design. A perfect match to our ever popular Mariana guardian angel necklaces!
Antique silver plated leverback wire earrings. Nickel free.
Crystals in clear.

Earrings are approx. 1" long (top of wire dangle to bottom of drop) and 5/8" wide. Drop itself is approx. 5/8" long.
Hand made in Israel. Comes with a Mariana jewelry pouch.
Image may be enlarged to show detail - please refer to product dimensions for actual size.