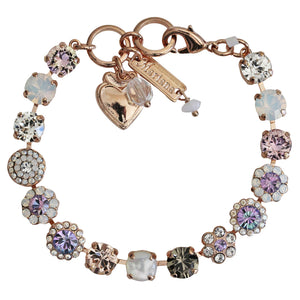 Mariana "Ice Queen" Rose Gold Plated Must-Have Rosette Crystal Bracelet , 4479 M1154rg
Regular price $ 189.00 Sale
Rose gold plated. Nickel free. 

Color M1154: Ice Queen, from the "Once Upon a Mariana" collection. Featured colors: Clear, Black Diamond, White Opal, Vitral Light, Silk, Light Peach, and White Moonstone.

Bracelet is approx. 7 1/2" long with a 1/2" extender. Bracelet extends up to 8" long. Approx. 3/8" at its widest part. NOTE: This is a sweet and petite bracelet - please pay close attention to actual dimensions.

Hand made in Israel. Comes with a Mariana jewelry pouch.

Image is often enlarged to show detail - please refer to product dimensions for actual size.