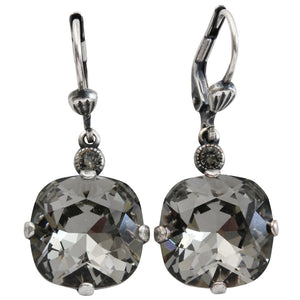 Catherine Popesco Sterling Silver Plated Crystal Round Earrings, 6556 Black Diamond * Limited Edition *
Regular price $ 52.00 Sale
Antiqued sterling silver plate over a copper base

leverback wire earrings with black diamond high-quality crystals. This is a limited edition crystal color. NOTE: "Black Diamond" is the manufacturer's name for this crystal color. This item does not contain actual diamonds, only crystals.

Earrings are approx. 1 1/4 inch long (top of wire dangle to bottom of drop) and 1/2 inch wide. Crystal itself is approx. 12 mm wide.

Image may be enlarged to show detail - please refer to product dimensions for actual size.

Due to the handcrafted nature of this product, each item may vary slightly. Every piece uses hand cut crystals that will vary slightly in color and inclusions, making every piece truly unique.