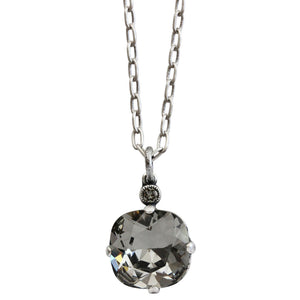 Catherine Popesco Sterling Silver Plated Crystal 12mm Pendant Necklace, 6556N Black Diamond
Regular price $ 49.95 Sale
This La Vie Parisienne by Catherine Popesco pendant necklace features a dazzling 12mm crystal cut to perfection. Available in a rainbow of colors with new crystal colors introduced twice a year. Looking for a particular crystal color?
Contact us
and we can special order it for you.
La Vie Parisienne by Catherine Popesco necklace made from the highest quality crystals.

Antiqued sterling silver plate over a copper base

 necklace with a black diamond (grey) 

crystal. This is a limited edition crystal color. NOTE: "Black Diamond" is the manufacturer's name for this crystal color. This item does not contain actual diamonds, only crystals.

Necklace is approx. 16 inches long with a 2 inch extender. Chain extends up to 18 inches long.
Crystal is approx. 12mm wide.